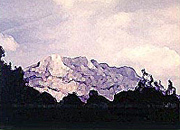 "In The Footsteps of Cezanne"
"The best experience in Aix is to walk along the carefully signposted route de Cezanne (D17), which winds eastward through the Provencal countryside toward Ste-Victoire. From the east end of cours Mirabeau, take rue du Marechal-Joffre across boulevard Carnot to boulevard des Poilus, which becomes avenue des Ecoles-Militaires and finally D17. The stretch between Aix and the hamlet of Le Tholonet is full of twists and turns where Cezanne often set up his easel to paint...31/2 miles...it's possible to do it where you can refresh yourself while waiting for one of the frequent buses back to Aix." (Frommer's 98 France)
Nestled at the foot of Mont Ste. Victoire, 15 miles east of Aix-en-Provence (469 miles S of Paris, 50 miles SE of Avignon, 20 miles N of Marseilles, 109 miles W of Nice) is the picturesque village of Puyloubier.
It is just large enough to sustain a grocery store, post office, cafe, restaurant, bakery and variety store, and is home to the award-winning local Cave Cooperative, selling wonderful and very inexpensive wine. From the house, visitors can walk up this mountain immortalized in the paintings of Paul Cezanne

Puyloubier is close to amenities of every kind. Three quarters of an hour's drive south is the Mediterranean, and the coastal beach of La Ciotat and the fishing village Cassis. Marseille (the best and most authentic bouillabaisse), a major business, cultural and port town is a similar distance and Nice is less than two hours to the east. Aix, the local town of 500,000, is famous for its music, food, markets and beautiful street-scapes of narrow lanes and tree-lined avenues.
The region is rich in cultural and outdoors activities, hosting many galleries, music festivals, theatres, vineyards and outstanding restaurants, as well as being a centre for hiking, mountaineering, cycling and swimming. Historical and religious sites of interest abound locally, but perhaps most arresting are the beautiful landscapes which have attracted artists from Van Gogh to the Canadian Group of Seven, who stayed in a house a few miles away.